✎
Link to source
Much like the rest of the state, Orange County is facing a substantial housing shortage.
The Orange County Business Council said in a 2019 report that the county's housing deficit would grow from 58,000 to 115,000 units by 2045. As the COVID-19 pandemic causes job loss and likely decreased tax revenues for cities, the housing deficit could be even worse than previously predicted.
One proposed method of alleviating that housing shortage is accessory dwelling units, which are smaller homes built on the grounds of a master dwelling.
Accessory dwelling units, or ADUs, are not a novel concept. They've been referred to as "granny flats" and have become more commonplace in the last few years since California relaxed the rules for obtaining ADU building permits in 2017.
As the ADU industry grows, the technology homebuilder's use is evolving.
The Oakland-based Mighty Buildings, which 3D-prints its ADUs, will have a home on display in Garden Grove until the end of November.
The pop-up home, located at 9672 Garden Grove Blvd., is open for virtual tours.
The fledgling company started in 2017, but spent much of that time developing its construction technology.
Sam Ruben, the company's co-founder and chief sustainability officer, said he believes the building technology his company developed will be beneficial as a tool for the ADU industry. The homes start at $183,000. The company said it doesn't disclose production costs.
Nick Marantz, UC Irvine assistant professor of urban planning and public policy, said the housing affordability crisis is not just about a shortage of supply but about a shortage of housing options.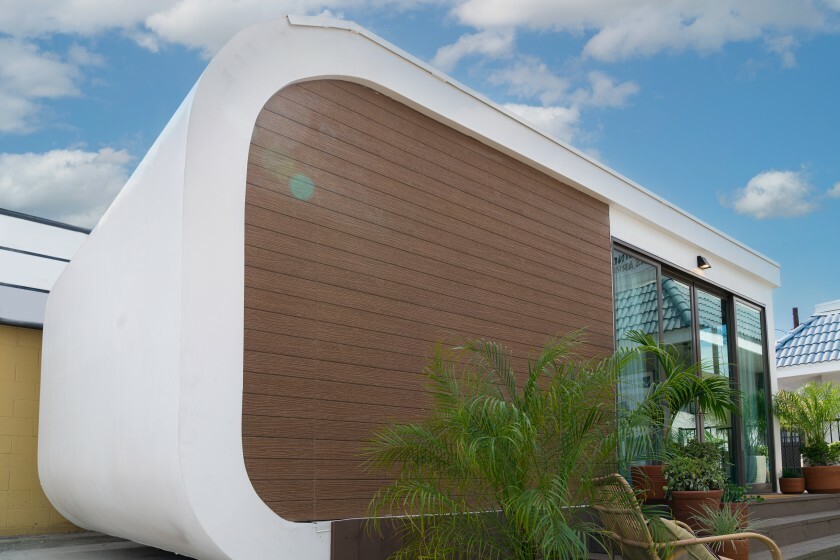 "So, if you can't afford a family home — in many parts of Orange County, you don't really have any alternative in terms of the type of use," Marantz said. "ADUs can contribute to addressing both of those problems by increasing the supply of housing but also increasing the variety of types of housing units that are available."
While officials say more affordable housing is needed in Orange County, those developments can be difficult to move forward due to pushback from residents.
Sarah Thomaz, a UC Irvine Phd. student who has been working on a study of ADUs in Los Angeles, said the units are a way to work around the objections of residents who oppose affordable housing projects.
"So in California, if you want to build low-cost housing or a huge apartment complex in a community, you need the community members' approval," Thomaz said. "So a lot of those end up getting shut down because people don't want to densify the neighborhoods. But ADUs have no such restriction on them. So if you can get enough people to adopt this, this is a really good way to get more density without sort of needing that community approval."
Thomaz said that, although there is no formal research, some suspect ADUs may also be better for the environment. With higher density in the city, one theory suggests, fewer people will commute from the suburbs.
"The only issue that you could run into with ADUs is that, you know, they will drive up housing prices," Thomaz said. "So if you're looking at having more people be homeowners, you're actually making houses harder to afford. But I don't think that's the case in California.
"I think the case in California right now is that people need affordable housing, even if that is rental. And if you're looking for a rental supply, I do think ADUs are a good source of supply for affordable rental housing."
Thomaz also said that a concern may be that ADUs could lower property values for nearby residents.
She said there isn't currently any research to suggest that's the case, but it is a "valid concern."
Thomaz said there are about 11,000 ADUs in Los Angeles County and roughly 360 ADUs in Orange County's unincorporated areas. The county did not have data on the rest of the cities in Orange County.